Weekday Schedule
There are required academic periods and check-ins throughout the day. But there are also a range of options every afternoon and evening that allow you to continue your intellectual investigations at open studios or debates, explore the City of New Haven with your friends, check out some of Yale's world famous museums, or take advantage of student clubs, interest-based societies, sports leagues, or other daily activities. You'll be back on Old Campus by 7:30 p.m. to check in, head to the evening events, meet up with a student-led organization, or take advantage of some down time to catch up on laundry, work on course projects, or relax with your friends. The choice is yours.
Weekday Schedule
7:00 a.m.
Breakfast
8:30 a.m.
Check-In
9:00 a.m.
Morning Academics
100-Level Courses
(9:00 a.m. – 10:30 a.m.)
200-Level Courses
(11:00 a.m. – 12:30 p.m.)
12:30 p.m.
Lunch
1:45 p.m.
Workshops
Princeton Review (1:45 p.m. – 3:45 p.m.)
3:15 p.m.
Extended Workshops
4:00 p.m.
Community Time
Advisory Groups, Living Groups, Community Meeting, or Department Meetings
5:00 p.m.
Extension Time
Extracurricular time for work on class projects or participation in Societies, Clubs, Leagues + Activities.
6:00 p.m.
Dinner
7:30 p.m.
Check-In
8:00 p.m.
Main Event
10:30 p.m.
Check-In on Floors
Weekend Schedule
Saturdays and Sundays are trip days. Each trip day you will have the opportunity to choose from a selection of 12-15 options throughout
New York and New England. All residential students attend weekend trips, and although day students are not required to participate in weekend trips, we highly encourage them to come experience a side of EXPLO not found on campus.
Weekend Schedule
6:30 a.m.
Breakfast
7:00 a.m.
Student Trips
6:00 p.m.
Dinner
8:30 p.m.
Check In
9:00 p.m.
Main Event
11:00 p.m.
Check-In on Floors
Your Daily Atlas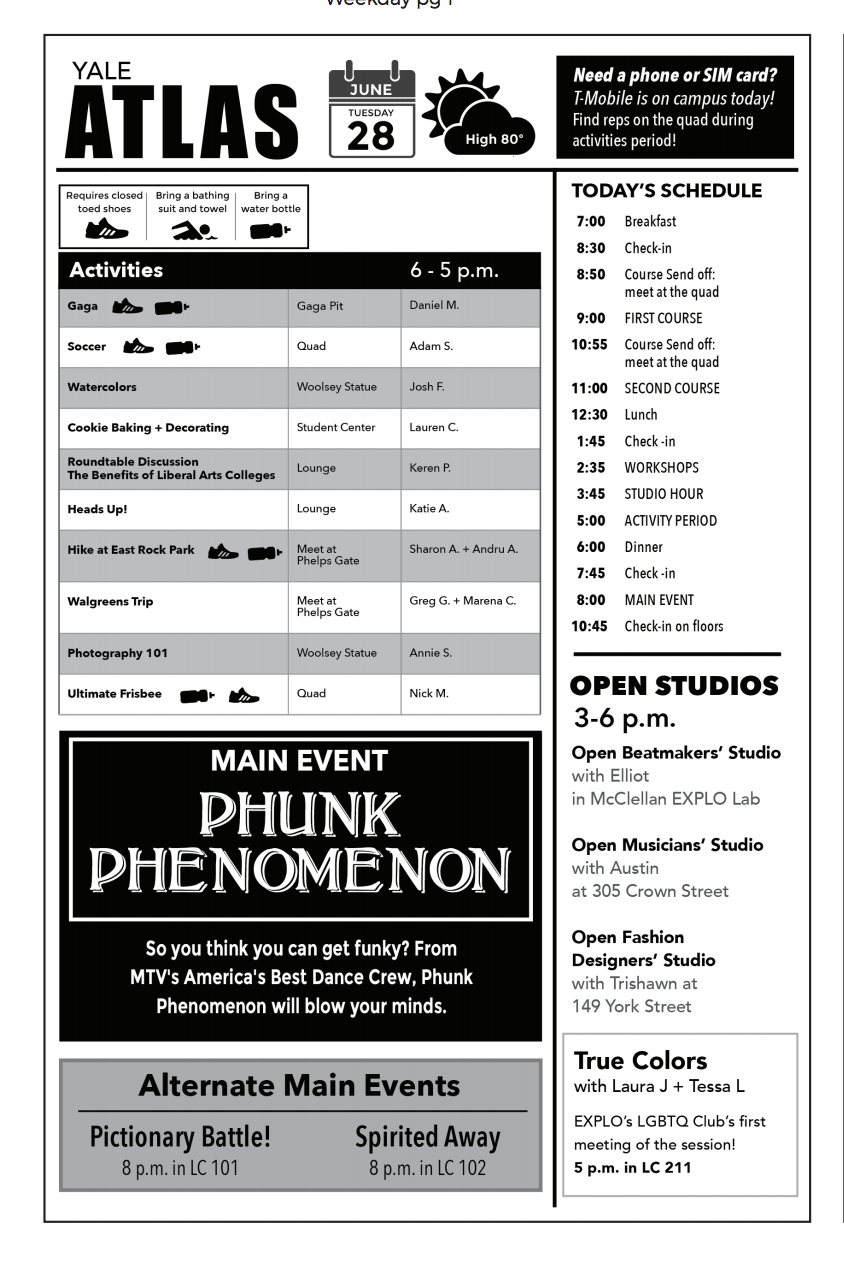 The Daily Atlas is your map to the day. Every morning at EXPLO, you'll receive a copy of the Daily Atlas, our campus newspaper. The Atlas lists all of the opportunities and activity offerings available that day. You'll have the difficult choice of narrowing down your favorites. If you'd like to take a look at what the Daily Atlas looks like (and the range of options available everyday), view a sample Daily Atlas (.PDF) and see what a day in the life at EXPLO looks like.
Explore Your Daily Atlas