Daily Check-In and Check-Out
Attendance and Check-In — Day students will meet with their Advisors every morning at 8:30 a.m. to check in and get information on the day's events. They will meet in their designated meeting locations Monday-Friday, rain or shine.
Check-Out Procedure — All day students are required to check out prior to leaving campus at the end of the day, regardless of the time or method of departure. Students leaving by bus or car at 4:00 p.m. or by car at 8:30 p.m. will check out with the staff member in the designated parking lot.
---
Extended Day and Overnight Opportunities
EXPLO at Wheaton offers an extended day program for day students. We encourage day students to stay for evening events every night (as long as they have a ride home!) so that they can glean as much of the EXPLO experience as possible. Day students may eat dinner at the program and then participate in evening activities until 8:30 p.m. each night. Day students are also welcome to sleep over in the EXPLO at Wheaton dorms two nights a week. It's a great way to test sleeping away from home and build independence.
Meal Fee: Students staying for dinner or an overnight are charged a nominal additional fee to cover the cost of dinner and/or breakfast. This fee is automatically deducted from the student's Trips + Sundries Account.
---
Weekend Trips
Weekend trips are a chance to experience a side of EXPLO not found on campus and make new friends along the way. All residential students participate in weekend trips and day students are highly encouraged to take part in them as well (though they're not required to do so).
---
Healthy Dining
No need to worry about packing a lunch — we've got that covered! EXPLO at Wheaton day students are offered a daily lunch buffet with an array of healthy options and fan favorites. To ensure the health and wellness of all of our students, we work closely with the Wheaton College dining services to provide options for students with food sensitivities and food allergies, as well as vegetarian and vegan options.
Extended Day + Overnight Meal Fee: For students who choose to stay for the evening or overnight, dinner and/or breakfast is available for a nominal fee. This fee is automatically deducted from the student's Trips + Sundries Account.
---
Day Student Transportation
Free Bus Service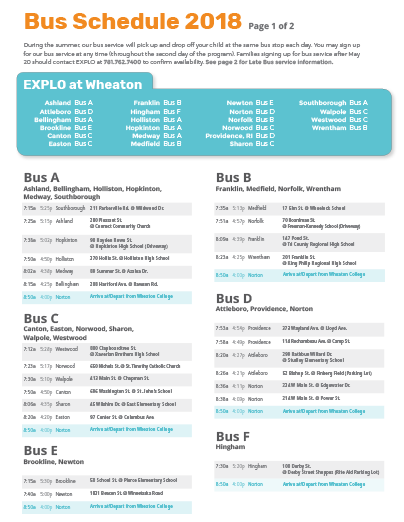 EXPLO offers free bus service to Wheaton College. In addition to our eight regular routes (which arrive by 9:00 a.m. and leave at 4:00 p.m.), EXPLO also offers a free late bus service (departing at 8:45 p.m.) that allows day students to participate in evening main events. See daily schedule for full details.
Download EXPLO at Wheaton Bus Schedule
Carpool Lists Available
In addition to free bus service, day families may opt into our carpool list to coordinate transportation with other families in their area. For more details, contact our Admission Office.